---
---
Listen as Tom talks with Teresa Tomeo about his upcoming visit to Michigan and talk at Holy Spirit Parish Brighton's Lenten Mission!
---
---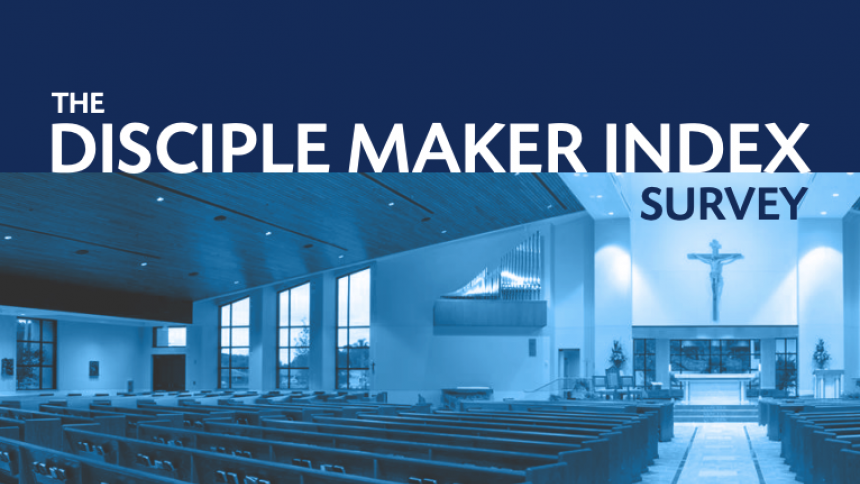 A new interactive way of assessing the spiritual health of parish-life will be rolled out across the Diocese of Lansing this weekend.
"I'm very excited by the arrival of the Disciple Maker Index across the 74 parishes of our diocese this weekend," said Craig Pohl, Director of New Evangelization for the Diocese of Lansing, February 6.
 "The Disciple Maker Index or DMI is basically a survey which allows every pastor, every parish to assess how they are doing on a whole host of indicators of spiritual health but all focused on the one thing that really matters in parish life: Helping people to grow in love for Jesus Christ and his Holy Church; in short, helping people to be saints."
Developed by the Pennsylvania-based Catholic Leadership Institute, the Disciple Maker Index (DMI) is a survey tool created to:
Allow parishioners to reflect upon their spiritual growth and discipleship;
Identify the ways in which the parish effectively supports that growth and look at opportunities to support that growth more in the future;
Provide valuable input to help pastors and parish leaders make decisions and plan effectively;
Help pastors and parish leaders have a sense of where to focus their evangelization efforts.
The survey can be completed online at www.disciplemakerindex.com , on your phone or, if required, via hard copy too. It will be available for all parishioners across the Diocese of Lansing to participate in from this weekend until March 1. For more information go to: https://www.catholicleaders.org/disciple-maker-index
---
ST. VINCENT DEPAUL LENTEN FOOD DRIVE
Click the link below to see what food items are requested each week:
SVDP Lenten Bulletin Insert_2020
---
---
CHI Video Series # 7 Healthcare in a Secular Society: Part I
(Prior videoclips can be found on "Fr. John's Links")
The Casa USA Campus in the 
Diocese of Lansing, Michigan
A beautiful replica pilgrim shrine of St. (Padre) Pio's Church Santa Maria delle Grazie,

a replica of his renown Home for the Relief of Suffering hospital,

a truly Catholic medical school fully faithful to the Magisterium of the Church,

a Christ Medicus Foundation National Center for Public Policy,

and a Terri Schiavo Life & Hope Network Center upholding human dignity through service to the medically vulnerable.
All of this will be resting on a tranquil campus near the town of Howell, Michigan (less than an hour drive from Detroit). 
This is no longer just the vision, but now the active collaborative plan being implemented by the leaderships of Catholic Healthcare International & the Diocese of Lansing, Michigan with the blessing of St. Pio's Casa hospital in Italy. 
This Casa USA campus will be a national "Beacon of Light" & model of truly faithful Catholic healthcare delivery for our country, to be emulated by other Catholic healthcare providers currently challenged by our increasingly secular culture.
We need your prayers & donations!
Many thanks & God bless you!
---
---
CAROLYN'S MESSAGE FROM HEAVEN
Carolyn, the mystic who has allegedly received messages from the Blessed Mother and Jesus, has been coming to our church the past several years on October 24th to provide her annual message. Click on the video above to listen as Carolyn receives her message from the Blessed Mother. You can read along with a transcript of the message here: Transcript of Carolyn's Message
---
HAPPY 40TH ANNIVERSARY
HOLY SPIRIT CATHOLIC CHURCH!  est. 1979
---
Our Lady, Untier of Knots
As per my homily about 'Penance' and what we can do on behalf of our country, here is a link to discerninghearts.com where you can find a novena to Our Lady, Untier of Knots.  Under the search icon,  just type in "knots".  The prayer takes about 7 1/2 minutes per day over nine days. Frj

---
Make sure you check Fr. John's Links on the "Media" tab above
for other inspiring videos! 
---
COME INSIDE and get to know our school….
---